The Deepening the Art of Facilitating Consent online meet-up is for people who engage in facilitation, and who want a safe space to talk about the
challenges, share insights, and explore their growing edges when facilitating groups whose basis for governance decisions is consent.
This peer-led group is offered by Circle Forward co-founders, Tracy Kunkler and Michelle Smith. We are all learners and teachers at different moments. We will share and explore our collective toolkit — the inheritance from sociocracy and other complementary methods.
THIRD THURSDAY of each month    12 – 1pm Eastern Time
Next call: April 20, 2017
Contact us to receive our monthly announcements.
REGISTER HERE to reserve your seat.
We'll send you the link and phone numbers to join the call. This call will not be recorded.
March Topic: No call — Just a Resource for You!
We are unavailable for a call this month, and we will miss everyone! We will reconvene again on April 20th.  In the meantime, we wanted to pass along this resource from consulting firm FSG:
Decision-making by consent requires that members of a circle learn together effectively, and this is a useful guide for facilitators.  Here is the description from the Collective Impact Forum: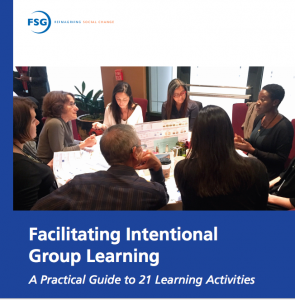 "For organizations to be successful, individuals need opportunities to share data, as well as their knowledge and experiences, with others. Facilitated, intentional group activities create the ideal environment for reflection and dialogue that lead to new insights and understandings. From quick 20-minute activities to multi-hour gatherings, this guide provides detailed instructions on how to conduct high-energy, inclusive, and productive experiences.
Have a great month, we will see you in April 🙂
February Topic: The "Facilitator as Savior" Syndrome
At its best, facilitating dialogue feels fluid and dynamic. You feel like you're "on," feedback is positive, and groups experience transformations in their perception of issues and in their solutions.  Very often, though, groups experience transformational dialogue in fits and starts, with hiccups here and there.
You, the facilitator, might notice your own feelings fluctuate through confidence and fear, clarity and frustration.  And at some point, every facilitator has experienced feelings of powerlessness as a process has gone off the rails.  Who is responsible for the outcome of any process?   Let's talk about the Facilitator as Savior Syndrome, and, how we can turn it into purposeful compassion.
Francine Proulx-Kenzle, Principal at Pense Transformation Consulting and a member of the Sociocracy Consulting Group, will facilitate this session.
New facilitators are welcome. Come to listen. Come to share.